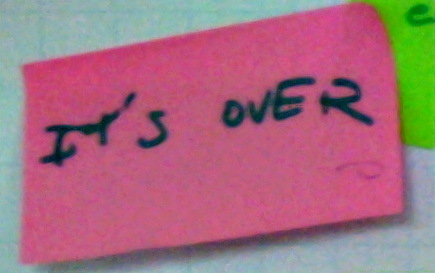 Maybe I took my cue from
Cocoa Rican
. Or maybe I was finally willing to read the writing that's been all over the walls for weeks. Either way, I finally admitted to myself that
this
-- whatever that was -- isn't working out for me and that I was ready to move on.
It was easy, really. I made my mind up yesterday after he completely ignored the plans we made for the morning. I tried calling -- three times. That's a lot for me. So, it all ended with a simple email which read:
This isn't working for me. I think it's best we cut our losses. Thanks.
Hey, it's better than Carrie's Post-it.
No need to cry me a river though. I've got a Michigan grad doing graduate work at Howard and a recent
SEC
champion in my back pocket. I'll be alright.
On a lighter note, I cannot WAIT for Jazmine Sullivan's album to drop. That's her that's been singing in the background as you've been reading. Random aside: You didn't think this song was for ole dude, did you? Anyway, Jazmine goes off on this joint. She gives me Lauryn Hill vibes and I absolutely love Lauryn, so the Philly native is already in good with me. Get into how Jazmine makes you want to go to church at 2:40.