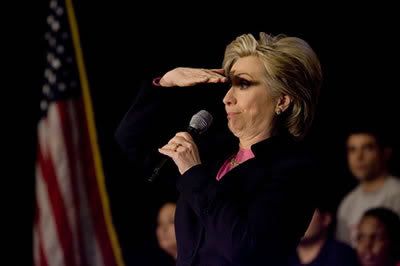 I'm touching my temples and channeling Negrodomous today.
In 20 years someone will show this photograph to Sen. Hillary Clinton and she will recall a story of grave peril and tremendous heroism. She'll tell a tale involving a blinding light show used by foreign military operatives to reduce secret service visibility or a potentially compromised microphone that looked eerily similar to the model she heard short circuits a lot or the broach she decided against wearing that could have for a number of creative reasons posed limitless danger.
Someone will check her on it, she'll claim to have misspoke, but will remind us all that the danger is always very real. That broach she decided against probably gives her the experience she needs to answer the phone at 3am, after all.
If you haven't heard by now, Hillary
has been called out on the stump -- again
.
Over the last five weeks, Hillary has featured in her campaign stump speeches the story of a health care horror: an uninsured pregnant woman who lost her baby and died herself after being denied care by an Ohio hospital because she could not come up with a $100 fee.
Very gut-wrenching.
This little snippet comes from
this
Washington Post article (emphasis added):
It almost always comes when the audience least expects it: the moment Sen. Hillary Rodham Clinton brings a roaring crowd to a hush with a heart-rending anecdote.

"

I remember listening to a story about a young woman in a small town along the Ohio River, in Meigs County, who worked in a pizza parlor

," the Democratic presidential candidate said during a stop in Cleveland, beginning a particularly grim tale.



"She got pregnant, she started having problems. There's no hospital left in Meigs County, so she had to go to a neighboring county. She showed up, and the hospital said, 'You know, you've got to give us $100 before we can see you.' She didn't have $100," Clinton said.



"So the young woman went back home," she continued. "The next time she went back, she was in an ambulance. It turned out she lost the baby. She was airlifted to Columbus."

She paused before concluding: "

And after heroic efforts at the medical center, she died.

" The audience, as always, gasped.
Who wouldn't support her universal health care plan after hearing something like that, right?
There's one small problem though. Hospital administrators said the woman featured in the speech was actually under the care of an OB-GYN practice affiliated with the hospital, that she was never refused treatment and that she was, in fact, insured.
Damn, Hill. First Sinbad calls you out, now hospital administrators. Can't catch a break, can you?
Campaign officials claimed that unlike the Bosnia slip-up, their candidate didn't misspeak this time -- they just forgot to verify the story. That makes it all better, I guess.
I wouldn't be so damn snarky if this didn't happen so much. Oh, you thought this was a one time thing?
Nah…I've been keeping score for a minute.
Lie
– First Daughter Chelsea was jogging around the Trade Center on Sept. 11, 2001.
Truth
- She was in bed watching it on TV.
Lie
- Hillary was named after Sir Edmund Hillary, the brave and pioneering man who first climbed Mt. Everest.
Truth
– This guy climbed Mt. Everest five years after she was born.
Lie
- She was under grave danger and sniper fire in Bosnia.
Truth
- A little girl read a poem and presented her with flowers when as her and Chelsea leisurely got off the plane.
I would add this little health care fib to the tally, but she didn't lie this time. She just didn't fact check.
In other Hillary news...