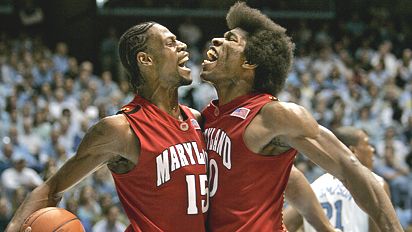 My Terps
won at #1 North Carolina today
and I feel damn good about it.
In its history, Maryland has beaten the number one team in the country ten times -- good enough for second all-time in NCAA history -- but this, the seventh under head coach Gary Williams, is probably the sweetest.
You see, Maryland isn't really good this season and we haven't bee good for much of the last three years. Last time I checked Maryland was 117th in the RPI standings -- it's lowest position in that poll in 20 years. But Coach Williams, whose seven wins over #1 ranked teams are the most among active coaches, found a way to win on the road and improve to 12-7, 2-2 ACC.
Maryland, who won in Chapel Hill for the first time since 2003, needed this win. Those young guys needed some confidence. They needed something to get them going.
Today was a fantastic day.