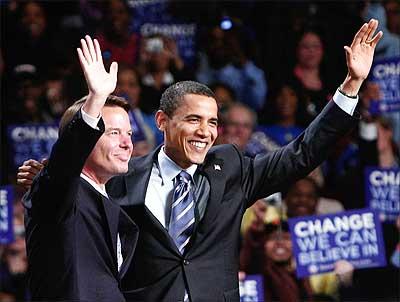 Hillary Clinton is slowly getting snatched owwwwt of the game. Let me explain. When you take a look at the events of the last 32 or 34 hours you see that timing is everything.

Take a look at what's happened since Hillary Clinton earned what is widely considered by the experts to be a large, but mostly symbolic victory in West Virginia.

Yesterday morning Senator Obama picked up 2 more superdelegates. The Associated Press is now reporting that he's picked up 30 in the last week. She's picked up 1.

NARAL, the national abortion rights organization, which has supported Hillary Clinton throughout her entire political career announced yesterday afternoon they're switching their support to Barack Obama.

The capper is John Edwards, whom had been courted by both the Obama and Clinton camps, in an effort to unify the party and stymie any momentum Sen. Clinton gained from that West Virginia win, announces his support for Barack Obama.

But look at the timing of all this.

Hillary Clinton spent all Wednesday afternoon taping interviews with all the news organizations expecting to capitalize on her big win only to be trumped by announcement that John Edwards, who seems to have an "in" with those working class voters Barack has had trouble courting of late, is going to work for Sen. Obama.

Way back in the day on Monday Night Football, Don Meredith, when the outcome of the game was no longer in doubt, broke out into a fractured version of something called "turn out the lights, the party's over".

Its time for the song.
.