Edit:
It's really unfortunate that we even have to address this, particularly after the wonderful weekend we just had, but there's one in every family. You know, bad apple that takes advantage and then tries to ruin things for the others. The best thing to do is just to accept this and move on. I do hope that none of you are allowing this spoiled fruit to leave a bad taste in your mouth.
We all must understand that some people who lack respect for themselves often react emotionally and with reckless abandon when they realize they haven't fooled anyone and that their peers know exactly who and what they really are. They have no problem embarrassing themselves by resorting to slander, name calling and other juvenile antics to deflect attention from their classless and less-than-flattering behavior.

On one hand you pity them. I mean, imagine how low it must feel to know that people's lasting impression is not a pleasant one. Imagine how you would feel knowing that your reputation is that of a leech -– a tacky leech –- who gets by simply by preying on people's charity, humanity and sponsorship. On the other hand, well, there really is no other hand. We should simply bank this incident in our memory and be sure the post office loses an invitation to events in the future.
I want each of you to turn this black mark into a positive and a learning experience. As you go through life you should know that sometimes this happens. Out of the kindness of your heart, you sponsor (read: completely provide for) supposed grown people for an entire weekend, they take advantage of your kindness and slander you. It doesn't matter if you provide food or drink or shelter or fond memories (or all of the above) with no expectation of anything in return, you are sometimes re-paid not with a 'thank you', but with attitude, laughable personal attacks, miscellaneous tomfoolery and lies about things they only experienced second-hand because they didn't come prepared with their own resources in the first place.

Whatever you do, please DO NOT allow these people to steal your humanity and sense of decency. Continue to help the feeble and less fortunate no matter how ungrateful they prove to be. Continue to show these people respect you would want if you were on the shitty end of life's stick.
Just because you have a nightmare doesn't mean you should stop dreaming.
I want to thank you all for taking the high road and not exacerbating this situation by proliferating silly comments and such. I'm so glad that each of you realizes that because we set the standard for successful blogger meet-ups around the country, everything we do is scrutinized and editorialized by others. Let us not make a scene or give our critics any ammunition with which they can attack us.

The best way to deal with these types of annoyances is to not even respond. They typically fade along with their 15 seconds.
---------------------------------------------

To say that our first Blogger Family Reunion was a success would be the understatement of the year. As the host, I never in my wildest wet dreams imagined that this thing could or even would go over so smoothly. I really want to thank you all for that. You bitches were really, really, really fun. From Annie's in Dupont to cocktails and breakfast in the suite to lunch at Outback, I truly had an absolute blast.
I'd want to thank Cocoa and Darius for all of their hard work in planning and preparing for this event. I'm typically HORRIFIED when things don't go as planned, but in this instance, I really don't think we could have planned this as well as it actually turned out. I really appreciate the conference calls and the twice checked lists. It was fun.
But because I enjoyed each of you, I want to individually shout you all out.
Joey
- Young. Bahamian. Intellectual. Socialite. Until we met this weekend that self-proclaimed description was the only impression I had of you. Well, that and the expired visa people kept referencing. I had no idea you'd be as awesome as you are. Thanks for suggesting MoMo's and Annie's. Talk about turning lemons into lemonade.
Cocoa
– We knew each other through telephone conversation, yet didn't really know each other because we hadn't met in person before, but interacted as if we'd been great friends for years. Thanks for all your help in prepping for this. We'll have to do something soon in New York. Not the Bronx though. Mr. Jones doesn't do borough. ;-)
Fuzzy
– We text and chat, but you're even better in person. You're bubbly and funny and can throw down in a kitchen with two pans and an electric griddle. Those potatoes were the shit. We have to get up the next time I'm in Jersey. I missed your call last night because I was knocked out, but we'll talk real soon.
Shawn
– I already told you that I think you're a sweetheart. I see why Fuzzy keeps you around. LOL. Seriously though, I really appreciate our little sidebars and conversations. I'll wait to hear back. I know that when I get up with Daniel when I'm in New Jersey next, you'll be right by his side, so I'll see you then. :-0
Ty
– Yet another fantastic New Jerseyan that made the trip. I admitted to rarely having read your blog, but your personality, wit, charm and overall demeanor gave me reason to start. You were really a joy to be around.
Promiscuous X
– I'm really glad that your outlook on the weekend changed a little cus I was none too happy with that negative ass call you made as we were walking to MoMo's. You got your drink and your "up north" music (as if you were in Mobile, AL or something) just like you wanted. I know these thirsty bitches are just waiting for me to say something else, but that's what text is for.
Nia
– We already discussed this, but thanks so much for your support. It meant a lot…seriously. I'm glad everyone had the opportunity to see why I consider you a friend.
E
– I want you to say more next time. I'm kidding. Seriously though, thanks so much for traveling from Chicago (not Atlanta, right…lol). It was great to have you there.
Darius
– Another Chicagoan who made the trip. I've already thanked you for your prepping/planning help, but I'm thanking you again. I'm so glad I got to see your lighter side during dinner/breakfast at Annie's. You're full of surprises.
That Dude Right There
– I already knew your crazy ass, but I'm glad everyone else had the opportunity to see how entertaining you are. Thanks so much for coming up. Don't forget that I'm in Atlanta next month. I hope you're in town.
Jared
– You're too funny. That head shake and that little shimmy you do is so hilarious. On the low, I got into to you as much as you got into me...hunny. LOL.
Anyway, 2008 was a blast, but 2009 in San Juan is gonna be even better. I want to see each of you there, plus the ones who didn't make it to Baltimore.
Please start saving your coin now. For your own good, start saving your coin now.
I have no idea where I was for this shot.
Shawn looks tossed the fuck up.

TDRT, Cocoa Rican and Me looking at something.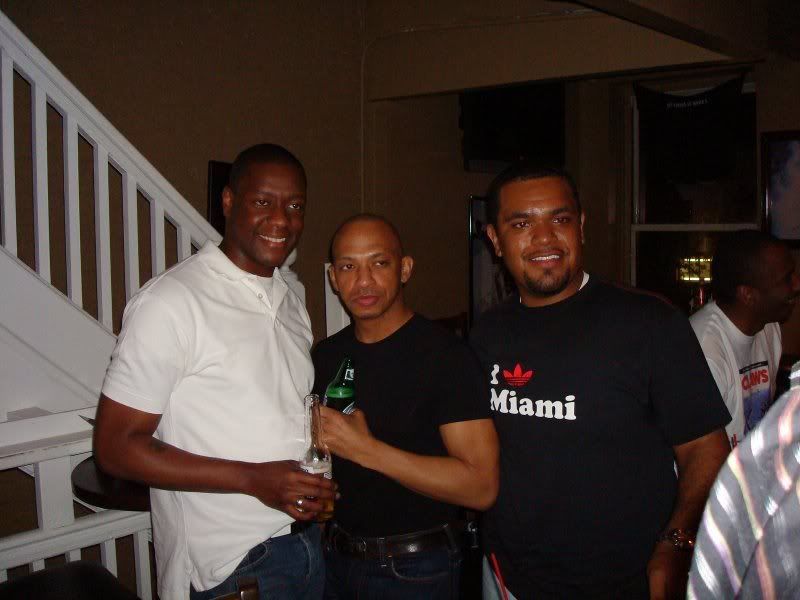 E looking all sly. He was probably up to something.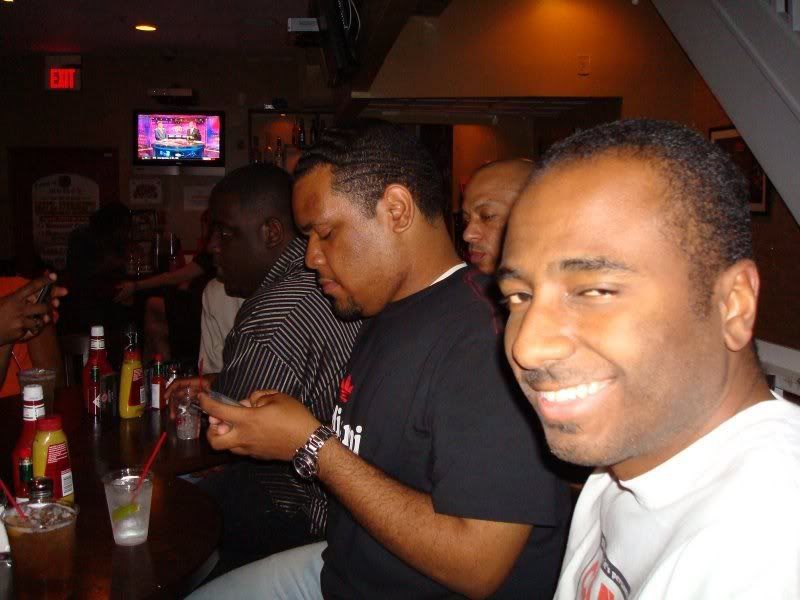 Darius throwing more shade than an oak in July. LOL.

Shawn and X.
Notice that Shawn is still sober, but not for long.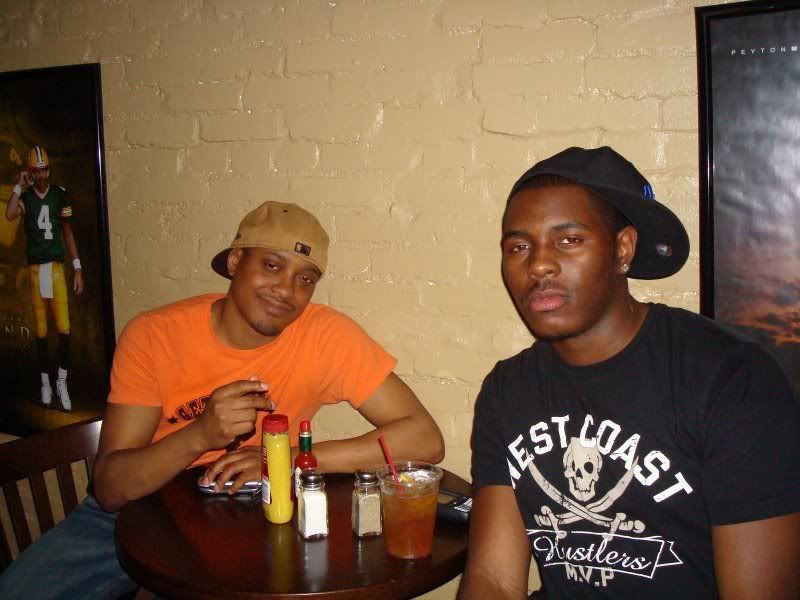 After a several of these....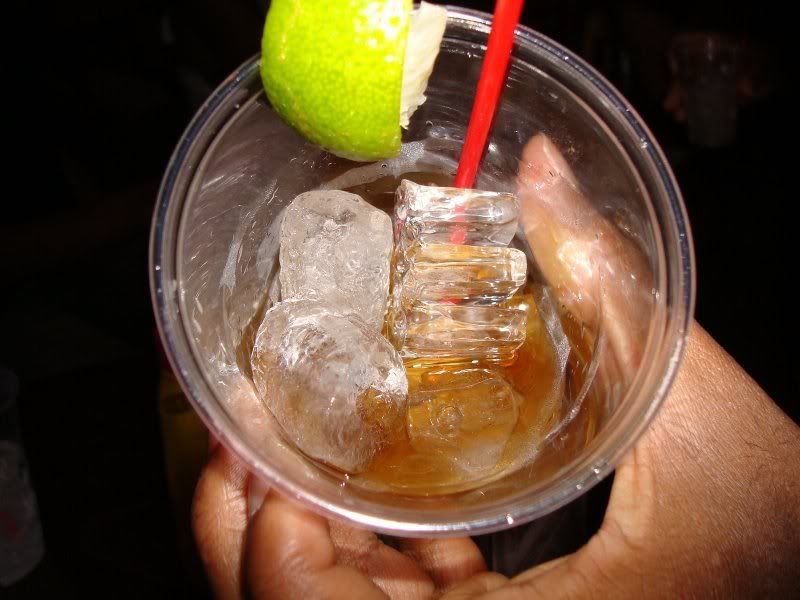 Shawn is no longer sober.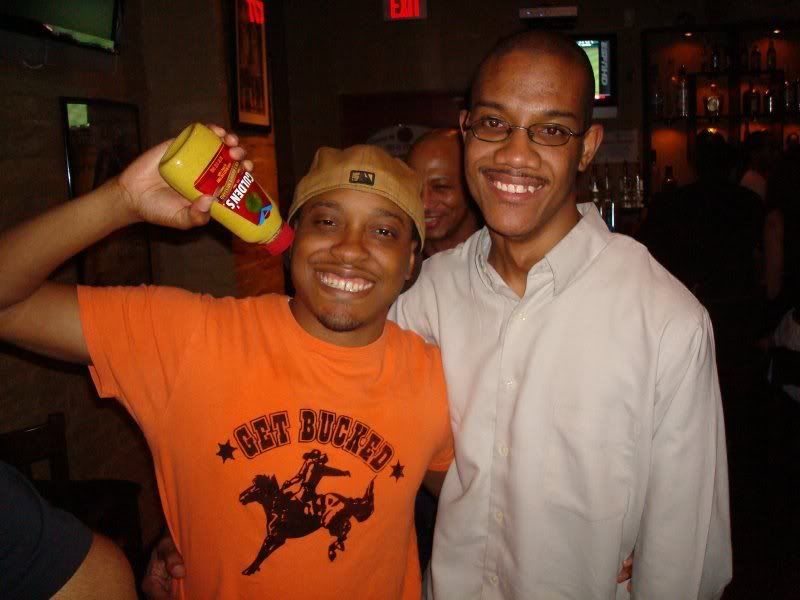 I don't know what I was talking about, but
Cocoa and TDRT were listening intently.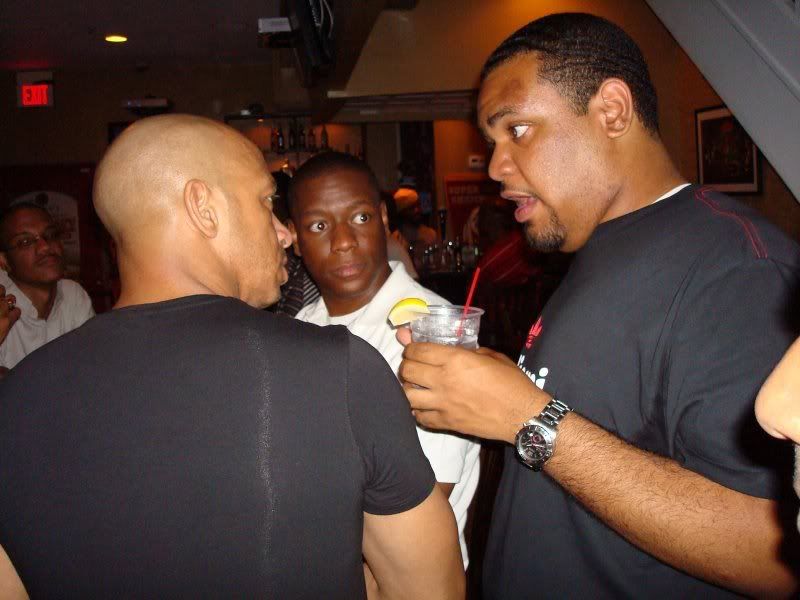 Drinking free shots and talking shit.
Yeah, son. Word.

Cocoa and Norris drunk as hell.
Fuzzy and Shawn.
Shawn's fucked up...again. LOL.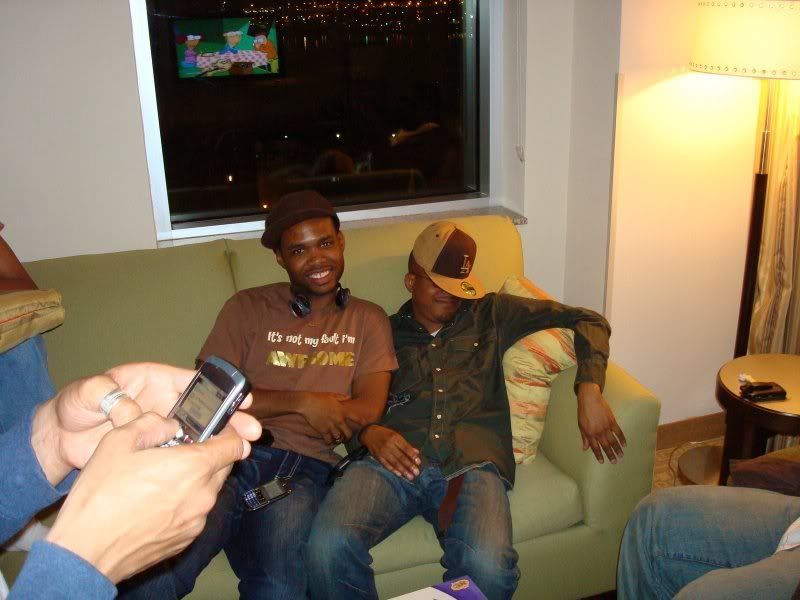 Yeah, son. I'm too cool to sit at the other table, son.
Jersey, holla!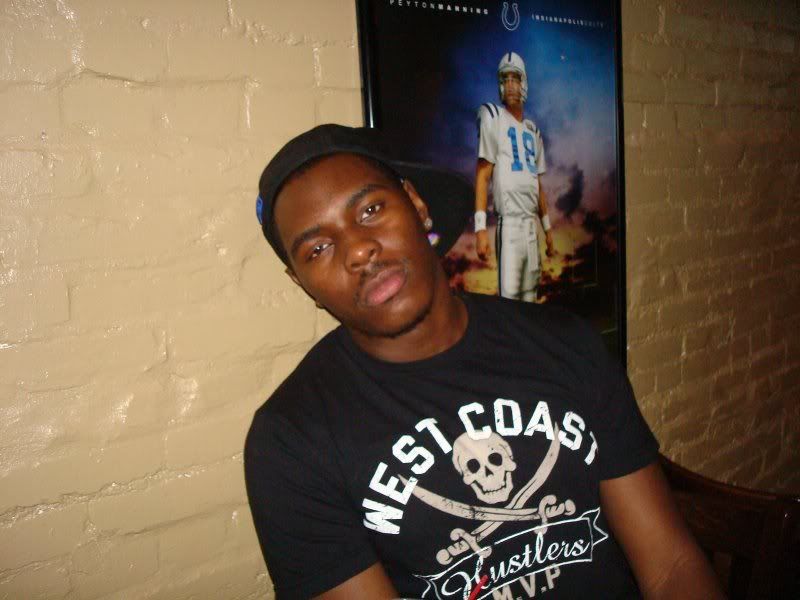 Jared and Joey. They are just too sweet!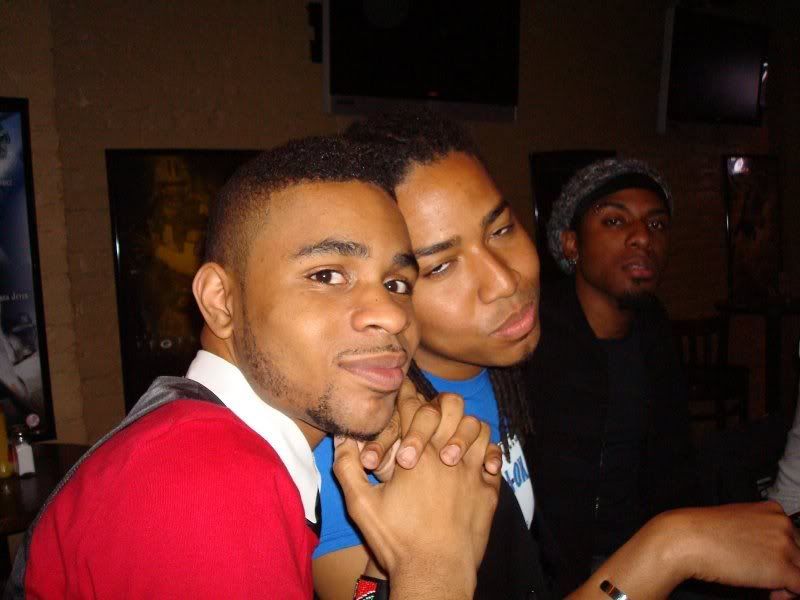 Shawn and Darius at the suite.
Shawn may or may not be drunk. LOL.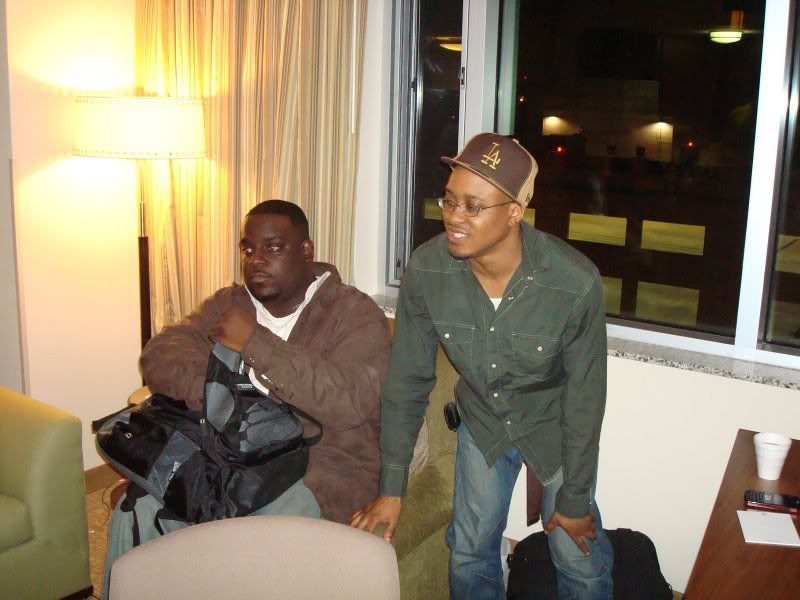 Drunk, drunk, drunk and drunk.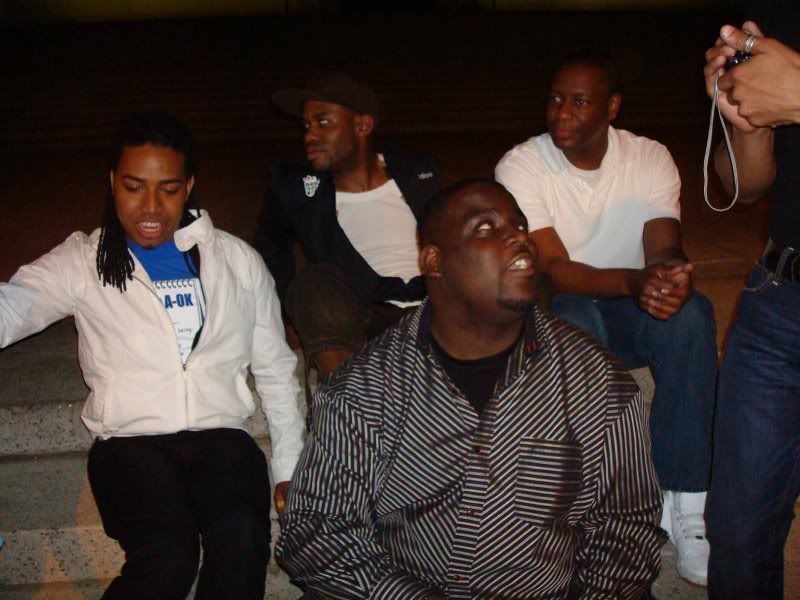 Believe it or not, this lady was outshined by another one at
the table across from us. Only in Dupont Circle.

Shout out to Ty Aspire for taking the pics.