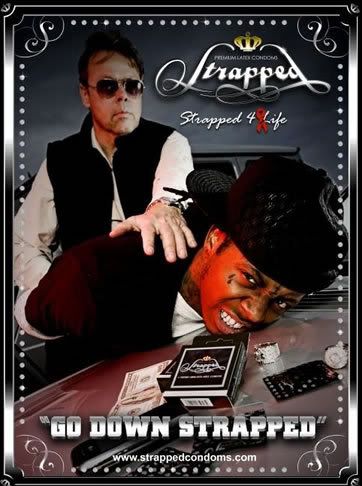 I'm all for safe sex and all things that promote it.
With that said, I have to ask what the advertising executives at
Strapped Condoms
were smoking when they came up with the concept for its latest ad featuring Baby's F., Weezy? They should pass some of whatever it was this...unless it was crack. I want no parts of that.
When companies are trying to sell things, don't they usually tend to use a little eye candy and feature actual attractive people in their advertisements? I wonder why they used Lil' Wayne. That's a face only a mother (or Birdman) can love.
You can't even brown bag that.
To top things off (pun intended), the visual of an Elton John stand-in bending Lil' Wayne over the hood of a cop car in a most suggestive manner doesn't really scream "
BE SURE TO USE CONDOMS WHEN YOU SCREW
!
" Or does it? Maybe that's why he's grimacing in pain the way he is.
Don't those condoms look like something you'd buy at in another country or from an Asian street vendor on Canal St. in Manhattan?