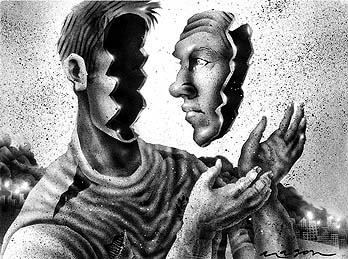 This week has been a very introspective one for me.
It all started with a conversation I had with a very dear friend of mine Wednesday night. Since then, I've done a lot of thinking. I've pondered my strengths and weaknesses. I've thought about my positives and attributes that could be improved. I've considered my personal and professional futures. Primarily, however, I've been thinking about me and why I'm single two years after my last relationship.
If there's one thing
I've learned in life is that have to be honest with yourself before you can be honest with others.
And I hadn't been honest with myself for quite some time. For two years, I've told myself (and others) that I'm single because I wanted to enjoy the single life for a bit and that didn't want to settle and be with just anybody. I've come up with all kinds of excuses for being single. I've criticized the dating pool in Baltimore. I've blamed it on my weight. I've claimed to need me time. I've come up with nearly ever excuse under the sun to totally absolve myself.
"I'm not a clubber,"
I'd say to my friends inquiring about my relationship status,
"and I don't do the internet thing and my gym is full of old white fogies, so I can't meet anyone there. I don't really put myself in a position to meet anyone, but it's cool though. I'm just chillin…doing me."
I've even come up with catchy little metaphors to explain to others that week's excuse. I've used this one a few times:
My not
doing the internet thing and rarely going to clubs is kinda like trying to selling a house…in a remote suburb…on a cul de sac tucked far, far away from the main road without having an open house.
Besides, you wouldn't sell your house before fixing it up. I have to deal with me before I can deal with someone else.
And all of that is true. Well, except for the part about not wanting to be with someone. Every human yearns intimacy, regardless of the bullshit they may spew.
I'm not a clubber and I really don't go out often. I go to work, go to the gym (maybe) and go home and encounter very few people who would interest me while on that circuit. There is a shortage of quality people to date in Baltimore. I do wish I were thinner. Not going out does not put me in a position to meet good people and is like selling a house without having an open house.
But none of that really matters when considering the bigger picture.
I'm an attractive young guy who is smart, laidback, funny, witty and eclectic. I have lots of quirks, but who does? I am appreciative of and to life. I enjoy the little things that most people may overlook. I offer good conversation that can be as intellectual or as silly as you want it to be.
And so what if I can stand to lose a couple of pounds.
You all have seen the pictures. You know I'm no hog. Finding an acquaintance is not (or at least should not be) nearly as difficult as selling a house. In this economy and housing crisis, I should not be on the market longer than a 4-bedroom rancher in Phoenix…with or without an open house.
Herein lies the problem:
I'm too damn particular and can be down right snooty when it comes to choosing a partner. I have too many deal breakers. I look for this and that, but don't have it all together my damn self.
I can't be asking for a lawyer or doctor or a PHD when I am neither.
I can't be expecting someone to be in the 28% tax bracket when I'm not. I can't be expecting people to have their shit in order when mine isn't. I do need to better market myself by being more social and stuff, but reality is never mind a relationship, 85-90% of the people you meet in clubs aren't worthy of a first date.
I'm not suggesting that I should lower my standards, because I shouldn't. I don't know what I'm suggesting, but I do know that I need to start being a bit more lenient when it comes to everything, which is weird considering that I really don't think that I'm asking for a lot.
All I really want is a good guy who is a good lay that brings at least as much as I'm bringing to the table.


.