When I created this blog, I intended for it to be strictly therapeutic. I figured, I'd vent about whatever bothered/interested me, no one would care and it would eventually get lost in the abyss that is the World Wide Web.
Well, then, to my surprise, people started to actually respond to my ideas, rants and randomness. Before I knew it, I developed internet rapports with some really interesting like minded people from all over the United States. BTW, I'm so greatly for the guys who frequent my blog. You guys are great.
Because I'm a geek, I've recently started tracking the number of people (and their respective points of origin) who visit Just Me, My Dignity and This Guitar Case. I was pleasantly surprised with what I found. More people come here than I thought (you all should start replying!!!).
If you ever doubted I'm not a numbers/stats crazed dork, I present the following.

Below is a map charting the origins of people who have been to this site more than once in the last 10 days: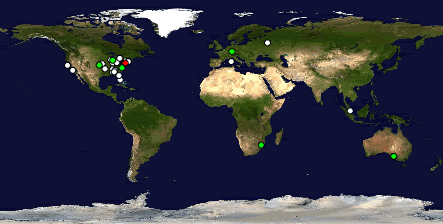 While I love my readers from the States, I'm particularly excited about the repeat readers from Mozambique,
Germany, Russia, Singapore and Australia.

Just call me International Jones.